Intro to My Lair
I am Christel and you have stumbled upon my loquacious lair, which has been around since 2001. I'm an 21-year-old composer, cellist, and artist, so you will find that pretty much everything here is related to those things. I made this site to share what I know and do with others who are interested. Since you are here, I hope you look around and explore what I have to offer. There's a lot of stuff here, so have fun.
P.S.
The majority of the content was acquired during my high school years, 2000-2004. Since I started college I've majorly neglected my website, as I have had such little time and frankly, it's not as important to me anymore. But alas, it remains, and I will try to come back periodically.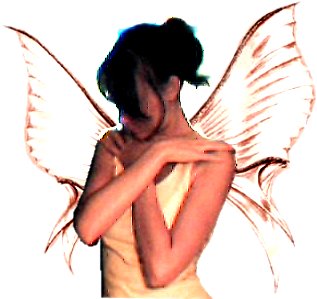 Who is Christel?
I am, of course. I'm caucasian, so I guess that means I am from Caucasia. Anyway, I am a 21-year-old avid cellist and composer attending Clayton State University, where I major in music composition. I've been seriously composing and arranging music - beginning with the string orchestra - since I was 15. I've played the cello since age 11.

I compose music for various mediums and have had the following performed/recorded by both amatures (students) and professionals: 5 string orchestra pieces, 2 string quartets, a percussion quartet, 2 clarinet and piano duets, a string trio (piano/violin/cello), and a solo baritone sax piece. Coming up, a piano duo and solo bassoon piece (as of September, 2006). One of my string pieces won me third place in the state of Georgia in a musical composition competition. Of course, I've written many more pieces that have not been performed for various reasons. I'm an active member of the National Society of Composers (SCI) and vice president of the SCI student chapter at Clayton State University.

I'm a cellist of over 8 years performing regularly in the Southern Crescent Symphony and my lovely string quartet, as well as other random ensembles for school and gigs. (Need a professional sounding string quartet for a wedding/birthday/special event? Contact me for details.) As for other instruments, I play the violin and piano somewhat decently (piano mostly; I wouldn't call myself a good violinist). I also like to draw (whoa, that's not music!)

I work weekends as a hostess at Joe's Crab Shack of Morrow, GA. You know that girl that answers the phone with "We're shrimply irrisistable here at Joe's Crab Shack of Morrow! This is Christel, how may I help you?" Well that's me. My name may have given it away, I don't know. It's not a bad job, it can actually be pretty fun. Plus the pay is surprisingly awesome. I used to be a server at the concentration camp known as Golden Corral; it sucked complete ass. Please, never work there, it's a terrible place.

I thrive on minor keys, emotionally intense music, fantasies, nightmares, and fear. I'm introverted, opinionated, and a laid-back agnostic.
(This is said by the old Christel from high school): I'm very introverted, I don't get out much, and I don't have a whole lot of friends, so obviously I'm not really an extremely social person (of course there are exceptions). I spend the majority of my time by myself, doing my own thing. People who spend most of their time by themselves often seem a little weird. I'm no exception. Only people who really know me can see how strange I am, as I don't really project my weirdness in public (with exceptions, of course).
(Now the new Christel, from May, 2005): It seems I haven't really completely updated my site since I was in high school. Well, the last paragraph you read is no longer entirely true. I'm not nearly the loner I used to be, regretfully (yes, regretfully). More stress comes with being social. While I'm not a complete social butterfly, nor the taciturn hermit I used to be, I have changed drastically. I'm still generally an introvert, but I get out a lot and have quite a few friends. I try to spend the majority of my time with others. I don't enjoy being alone all the time like I used to, but I like it from time to time, depending on my mood. College has changed many of my old habits and my lifestyle has especially changed. Deep down, however, I am still the same old Christel.
My hobbies include the following (in no specific order):

- Composing and arranging music
- Playing the cello, violin, and piano (primarily cello, secondarily piano, lastly violin)
- Drawing
- Writing stories, poems, essays, etc.
- Making 3D and 2D computer animations, models, and graphics
and more...
Topics of extreme to mild interest to me (not necessarily in that order)
- Music theory/composition
- Language
- Fear
- Exobiology (sometimes referred to as astrobiology)
- Cryptozoology
- Evolution
- Time Travel
- The future
- Human anatomy and physiology
- The abyss
- Many aspects of nature
- Earth
- The universe
- Death
- Philosophy
and MUCH more...
That's about all for now. Enjoy my site, browse around if you wish. You may find it quite interesting :)
Christel